Often individual's lives are extremely stressful and one becomes overwhelmed with the stress of work, friends, and just life in general. Sometimes these individuals turn to food to destress. One problem, what is the greatest de-stressing food – why soup of course, creamy, comforting chowder.
Comfort Food: "Comfort food is food that provides a nostalgic or sentimental value to someone,[1] and may be characterised by its high caloric nature, high carbohydrate level, or simple preparation.[2] The nostalgia may be specific to an individual, or it may apply to a specific culture.[3]" As defined on Wikipedia. 
@marlboros knows that stress these days is too real.
This speaks to anyone that has every experinced stress in the slightest way @wtfivxn
Arguable comfort food is not the healthiest thing for individuals, but when you are stressed out it is a free pass. So throw away that diet (for a meal) when you become stressed and grab a piping hot bowl of creamy chowder. You will feel better, trust me.
Here are some twitter accounts doing comfort soup the right way:
Find some fantastic comfort soups here: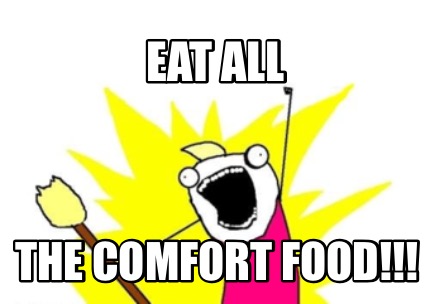 My ultimate creamy chowder is Clam Chowder, especially when it served in a bread bowl. Something about the soup just melts my stress away. Just a pinch recipes has great Clam Chowder recipe by Betty Graves that will be sure to relieve your stress.
Ingridents:
bread round loaves of rye or sour dough. (i use small individual loaves for each person)

4

strips of bacon fried (and chopped)

1

tsp 

salt and pepper to taste

3

large 

potatoes, peeled and diced

2

c 

clams, drained and chopped

roux: (1/4 pound butter and 1 cup flour)

cheese, shredded on top of soup when served (i use cheddar)
Instructions:
In large pot saute the oil and garlic about 2 minutes. Add diced vegetables and saute for 10 minutes or until vegetables are tender. Add herbs and salt and pepper. Add clam stock and chicken broth bring to a boil. Add potatoes and bring to a boil again. Add roux and chopped clams, and half and half reduce heat and simmer for 10 minutes.

Slice off the top 1″-2″ of the bread. Cut around the inside of the bread to create a 1″ border around the sides. Hollow out the inside of the bread loaf creating bite size pieces.

3. If desired, sprinkle bits of green onion on top.

Creamy Soup has got to be the #1 repelant of stress.
Slurp the stress away with a creamy chowder and refocus your energy to accomplish your goals. So the real question is what is your ultimate comfort soup?